White roof
Roofer Toiture Gagné offers white roofs because it is an economic and ecological recyclable material.
Why choose a white roof coating?
The white membrane prevents overheating when exposed to sunlight, it does not dry out and retains its elasticity even in winter, which at the same time increases the longevity of your roof.
When you recover your white membrane roof, it helps reflect sunlight. The heat is not transmitted to the building and it can save air conditioning costs. Moreover white membranes help reduce heat islands and you can help reduce the impacts of climate change.
Certain district of Montreal as Mercier-Hochelaga-Maisonneuve, Ville-Marie and the Southwest of Montreal have already adopted the white roof coating. Our company is aware of the importance of our environment and wishes to contribute to a better life for our future generations.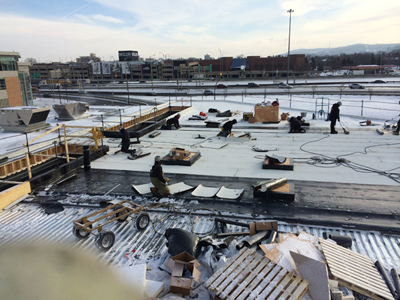 We can take care of all your roofing projects