Maintenance and Repair
As an entrepreneur reliable, honest and impartial Roofer Toiture Gagné offers a preventive maintenance service in order to maximize the longevity of your current roof.
You can count on our team if your home or business requires an emergency repair or a complete replacement of your roof.
Our inspection service will identify emerging weaknesses and to counter the effects of weather and seasons. Over a given period, we will conduct a review of your roof and if necessary, repair if desired photo file. This can take several years or when the autumn before the winter period.
Our specialists will submit to you a report on the status of your coverage, allowing you to prevent or better you prepared in case of heavy work. In order to complete our prevention, Gagné Roofing offers you its complementary services, snow removal and cleaning of roof and gutter.
Looking forward to serving you!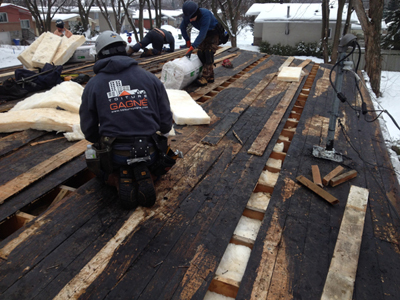 We can take care of all your roofing projects