Snow Removal
As an entrepreneur specialized Gagné Roofing offer snow removal service, because we know that clear snow from a roof is risky.
Our company to realize that winter, the most important for traders is the safety of its customers but also of their commercial building. That is why we offer the service to inspect your coverage and structural inspection of your roof by our experts before the cold weather season.
It is essential to check if your roof is well ventilated during the winter, otherwise it will cause ice buildup on the edges of the roof, which can be extremely harmful and exacerbate the deterioration of the coating while increasing the risk 'water infiltration. It is also very important to ensure that the snow that accumulates on or around your roof is not a danger to persons moving near buildings and the roof does not have a weakness, a sign preliminary runner of a collapse.
Whether you are in the regions of Montreal, or the North Shore, do not hesitate to contact us! Gagné roof safety at heart since 2 generations.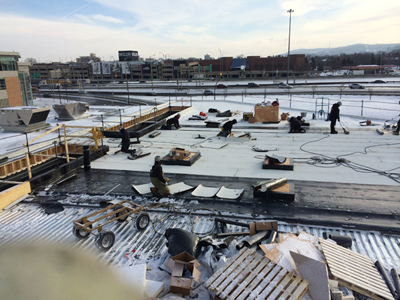 We can take care of all your roofing projects